Protect Your Property from Pesky Pests – Call Pest Control Kapunda Specialist Today!
At Micks Pest Control, we have years of expertise, skill and knowledge to guide you with pest issues. Our local pest controllers perform unique Pest Control Kapunda services at affordable rates. Moreover, with our timely inspection and treatments, you can stay assured that your place is pest-free. Common pests that we kill, remove or eradicate are- rats, cockroaches, ants, spiders, silverfish and many more. Additionally, the best part about our services is that our rates are friendly and reliable. Book your appointment at 08 7100 9071.
Pest Control Kapunda Services We Have For You
Flies Control
We have a professional flies control service to eradicate them from your place. Moreover, our sprays are the best option to exterminate flies from your Kapunda home.
Cockroach Removal
We have categorised cockroach removal plans according to the size of your homes. Schedule an appointment and take our cockroach inspection and control today!
Spider Removal
We use spider monitoring trap methods and render the best pest treatment in Kapunda. Moreover, our specialists remove spiders by using eco-friendly pesticides and products.
Mosquito Pest Control
Do mosquitoes scatter when you switch on lights? If yes, you need to call us for mosquito removal in Kapunda today! Hire us now and enjoy same-day mosquito control service.
Wasp Pest Control
If you are looking for the most suitable wasp pest control service in Kapunda, we can help. We offer safe wasp nest extermination and preventive services at a fair price.
Woodworm Treatments
Call us today and get the best woodworm treatment done in Kapunda today. We have been protecting Kapunda homes against woodworms for many years now.
Tick Extermination
Ticks are really tricky to remove. If you or your pet has been affected by ticks, do call us out. Our emergency tick removal Kapunda team will reach you today!
Moth Pest Control
Our moth removal is cheap, effective and safe. Save your home against moth infestations. Contact our pest controllers for comprehensive moth removal.
Bee Pest Control
A beehive in your yard may turn into a problematic situation in no time. Contact us and we will ensure the problem is resolved in a natural way.
Rodent Control
In most cases, rodents are too hard to catch. Therefore, we run a 24/7 rodent control service in Kapunda. We have specially designed traps and baits to catch rodents easily.
Flea Control
Are fleas disturbing you and your pet? Our flea control treatment can help. We have been serving Kapunda with reliable and emergency flea treatments for years.
Silverfish Control
Looking for a silverfish removal in Kapunda? Our company can assist. We offer on-time and environmentally-safe silverfish removal services.
Timely Pest Control In Kapunda
We offer on-time pest management services in Kapunda. Our specialists have years of knowledge and never fail to provide timely service. We are punctual in doing all kinds of pest control services. Moreover, with advanced tools and leading techniques, our pest controllers cut down the service time to half. This is what makes our pest removal and inspections so special in Kapunda for the end of lease pest control. Additionally, our timely pest treatments are appreciated by customers and we aim to provide the highest standards every time.
Domestic Pest Control
Planning to get residential pest control done at your Kapunda home? Our company will help. We offer a complete package of residential pest controlat affordable rates.
Commercial Pest Control
We also offer commercial pest control services in Kapunda. So, if you are planning for effective pest control for commercial places, do reach out.
Pre- Purchase Pest Inspections In Kapunda
Our company also provides pre-purchase pest control inspections and treatments in Kapunda, South Australia. Moreover, we have a wide range of plans for budget-friendly pest inspections. We are locally owned and operated and hence can be easily available 24 by 7 throughout the year. Book us for your early purchase pest inspection in Kapunda. Furthermore, if you want to talk to our customer care executive before booking, please call us anytime at 08 7100 9071.
Benefits Of Hiring Us For Pest Extermination In Kapunda, SA
Micks Pest Control is a people's company. Our major goal has always been to make sure that our clients are comfortable and getting what they want. All we want is to be useful and helpful to our customers whenever they need us. Here are some other reasons:
Professionalism : All of our pest control Kapunda team is trained and works with great professionalism, always.
Eco-Safe Pest Control Service : Eco-Safe Pest Control Service: All of our pest treatments are performed safely. Moreover, we take care of all Australian standards in rendering services.
Fair Pricing : You can call us for the most affordable and fair pest control prices in Kapunda. No add-ons are done before and after service.
365-day work : We take no break in rendering pest control services in Kapunda. Furthermore, our expert pest control team works 7 days a week.
Same Day Service: We are your local pest controllers in Kapunda. So, feel free to contact us for same-day or emergency pest treatments.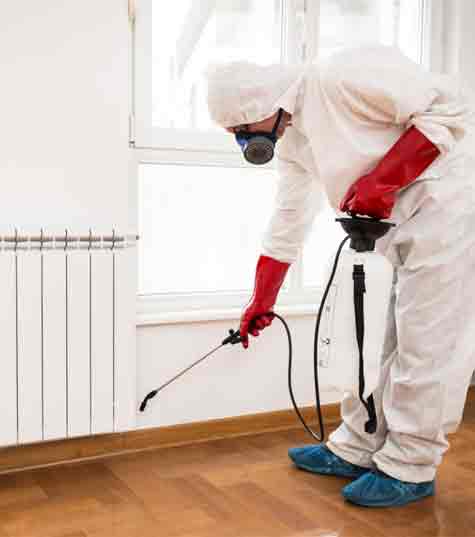 FAQ'S
Results tend to vary depending on the level of cockroach infestations in your place. However, we have designed healthier environment solutions that kill cockroach breedings in less time. You can expect to see the results 3-4 hours post-treatment.
Flea removal takes a lot of teamwork. Therefore, we expect our customers to do a few things like- vacuuming furniture and carpet, mopping and sweeping floors and covering aquariums. However, it is your choice to do or leave it as it is.
Commonly known general pests are- house ants, silverfish, spiders, wasps, moths, rats and mice. Whereas, the non-general pests are- cockroaches, ticks and bees.
Case Study
Jason called us on Friday for a cockroach treatment service. Our team took 3 hours and treated one kitchen and two bathrooms. Later, Jason was satisfied with the results and praised us for the service and for arriving on time.
What Is Special About Kapunda?
Kapunda, located in the Mid-North region of South Australia, is a small town with a rich and fascinating history. It was founded in 1844 by Cornish miners who discovered copper ore deposits and began mining operations. Kapunda has since grown to become an important agricultural centre, boasting an array of vineyards, orchards, and farms. Visitors to the town can explore its many historical sites and attractions such as the ruins of the old copper mine or take part in one of its many festivals and events. With its picturesque landscape, friendly locals, and vibrant culture, Kapunda is sure to provide a memorable experience for all who visit.
We are serving in the following locations of Kapunda
Allendale North
Bagot Well
Bethel
Fords
Hamilton
Koonunga
St Johns